A subtle knock at my door...
"Hello handsome. It's so nice to finally meet you... in person." Cee and I have been IG friends for quite some time. You know how that can be, you meet someone online and both practically feel like you know one another so very well. Yes, this was one of those instances. I was nervous because you know sometimes when you meet someone face to face, they aren't anything like how you've imagined. This wasn't that, he was exactly how I imagined him to be. A beautiful dark brown, masculine, strong, sexy black man.
"You look absolutely beautiful." He looked at me with so much desire and approval in his eyes.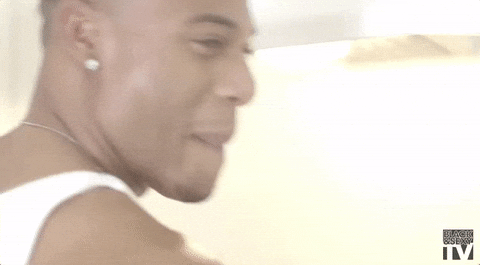 "Why thank you." I blush with so much excitement.
"I got this for you! Just a simple something I put together for your stay here this weekend." He came to visit me from the east coast, and I love giving gifts to those I care about. It was a gift bag of small things that may come in handy. Expensive nice razor set, one of my favorite colognes to smell on a man, a bottle of his favorite liquor, and a 5 hour energy shot, because I planned on taking all of his energy this weekend.
"Wow, this is very kind of you." He leans in to give me a tight hug. He caresses up and down my back as he squeezes me. I melt in his arms as I have been awaiting this moment for far too long. We literally embrace for what seemed to be 10 minutes. Pure silence, energy transferring between us, arousal fluids building up between my thighs. He whispers "You smell so good." I proceed to kiss and slightly lick his neck... "You taste so good, I can't wait to taste more of you."
We finally detach from one another, and I lead him to the couch. I pour us a glass of red wine and we sit and talk for hours laughing, getting deep, touching topics about our past, our future, our dreams, funny stories, family, work, everything. No music playing, no tv on; just organic conversation and great eye contact. This conversation alone has been turning me on. Not to mention looking at his beautiful chocolate skin makes it hard for me to focus. I drifted off envisioning his lips on my pussy several times.
"You saying too much of the right shit Kay, imma end up cuffin' yo ass and I know you're not ready for all of that."
"How do you know I'm not ready?"
"You out here pegging niggas, living your best life. I want you to enjoy that." We both laugh.
"I only do all this fun shit because no one has come along to make me want to settle down. Maybe it's time that I do, I'm almost 30. I want to see what happens, ya know?"
He leans in and kisses me for the first time. His plump lips were just as soft as I thought, and so passionate. He slides his well manicured hands between my thighs and grazes his fingers across my pussy lips. He gained easy access since I wasn't wearing any panties underneath my dress.
"Wow, so this is what your SheOrgasms does?"
"No, this is all you honey." I mean I did pop a few SheOrgasms, but this right here is mostly him lol.
I hop on top of him so that he can stop playing with my pussy because I don't want to fuck yet and he's making that difficult for me, I want to wait a bit longer. The build up will be even better with a full evening of foreplay. I can feel his dick pulsating through his khakis. While I'm on top of him, I slide my hands down to his dick so I can gently rub on it while he continues to kiss all over my neck, and breast. Things are starting to heat up and I can't allow it quite yet.
"We should stop, are you hungry? I planned to cook or we can go out and get food, whatever you want we can do."
"You know I would much prefer to eat your food."
"Good! I planned to make Salmon Wellington with Parmesan asparagus. It'll pair well with the wine."
"Well damn! Alright then!" He slaps my ass as I hop off of him. I realized I forgot to get a key ingredient to the meal, so we take a quick trip to Harris Teeter.
I let him drive my car so that I can focus on rubbing on his dick lol
"You better stop woman." He squeezes my thigh real tight.
"I'm so glad you're here Cee, thank you for coming... seriously." He leans over to give me a quick peck on the cheek. We make it to the store and before we get out I stop him.
"Wait." I unbuckle his pants and pull his dick out. I kiss and lick on his dick while we are parked in the parking lot. I rub his dick against my luscious lips (on my face). I do everything to his dick but suck it.
"Damn, I want to fuck you so bad." I feel the veins in his dick swell as I lick up his shaft. I lift up and slid his hard dick back in his pants.
"Ok, come on!" His noticeable bulge stuck out the entire time in the store, it was great.
We make it back home and the first thing he does is throws the bag of our fresh spinach on the table and pushes me onto the couch. He rips my dress off in less than a second. He aggressively kisses me from my lips, to my neck, to my breast, down to my belly.
"Yes baby, yes!" I anxiously pant for me.
"Come over here." He lays back and signals me to come and ride his face. I do just that...
He sucks on my clit ready to devour every drop of me. I quickly reach my peak and here comes nut #1. He continues to slurp me up. Whatever he's doing down there is feeling so fucking good. His muffled moaning while eating my pussy is also making it easier for me to climax, here comes nut #2. ALREADY!
"Damn baby, you taste so fucking good." He quickly flips me around and slides his dick into my slippery canal. I see his eyes roll to the back of his head as my warmth wraps around his dick.
his strokes were so deep and fit so perfectly inside me.
"You bout to make me claim this pussy Kay."
"I want you to claim me baby, I wanna be yours."
His strokes started to get harder and his dick felt as though it got even bigger. Our eye contact was even more intense while deep panting escaped my mouth. I felt my titties being thrown in a circle.
#3 came shortly after I lost eye contact. He slaps me across the face.
" Look at me." Nut #4! That shit caught me so off guard my body had no choice but to cum. He places his hand against my neck and pounded me slowly, the combination of asphyxiation and feeling every single inch of his dick made me fall into a trance. I felt his entire energy flowing throughout my body. I push him off of me, as I feel myself about to squirt. He plummets to the floor and watches as I squirt nearly across the room, we have arrived to nut #5. He attempts to get up off the floor.
"Stay, I want you just like that."
He watches as I throw it back at him, bouncing on his dick.
"You about to make me cum baby, fuck!" Shortly after a few Rick Ross grunts, he quickly pulls out of me and his nut #1 shoots all the way across my back. We both lay there stuck.
"I guess I should wipe that off of you. Where are your rags."
"Or you can wash it off, let's go shower. I already have everything set up for us upstairs." Without hesitation he gets up.
"Lead the way." We get in the shower and he immediately spreads my legs apart and starts to eat my pussy again. I drip #6 into his mouth.
Our passion towards one other is insanely good. He is loving on me as if it's our honeymoon. I'm sure I almost said I love you lol.
We continue to lather one another up and glide our bodies up against one another. The sound of the shower and silence had us both floating away together.
"I like you a lot" He whispers it in my ear, while rubbing on my body.
The crazy thing about it, I felt the same way.
"I like you too." I turn around looked him in the eye and we began to kiss each other again. The shower lasted pretty long.
We get out the shower and dried off. I hand him some lotion and we continue to continuously glance up at one another and cheese from ear to ear as we lathered up.
"You gone make me fuck you again Kay, you better stop."
"Is that a threat?" I walk over to him.
I do one good deep throat of his already hard dick, and demand he fucks me.
"Slowly." I wanted him to make love to me. He places me on the bed and rubs his dick up and down my vulva.
He spreads my juices around making me even more wet. I slide further onto the bed so that he can properly glide inside me. I instantly cum on his dick, #8!
"You must really like this dick." He shakes his head with a beautiful smile gazing at me.
"No, I really like you."
He comes closer to embrace my body while still inside me. he pulls out and cums on my belly, his nut #2.
"I tried to hold it." Little did he know, I was beyond satisfied. I got up washed up and went to finally go cook us some food.
Dinner is served!
We enjoy our meal, and continue to look at each other with shock, joy, and satisfaction. I almost never want him to leave.
What have I gotten myself into, he's about to get his nut #3 already...