Reader Submission - Double, Triple, Wait!
It wasn't until 6:37pm when Meika realized, it's about to go thee fuck down, and not the normal boring ass Friday night spent by herself with a new strain of weed, which is her definition of a good time; but some DP she's been fantasizing about since like forever ago is happening tonight!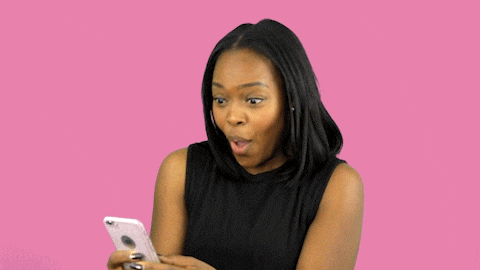 "TONIGHT BITCH, YES THEY COMING OVER" as she yelled on Facetime with her bff Chauntae. "What the fuck am i gonna wear!?, do I just meet them naked at the door!? Do I yell come in with my ass in the air like what the fuck do i do!?" Meika was head over heels about Dave, a fine ass CEO with an Instagram of over 25k followers. Dave was truly the boss ass nigga to know. He owned many businesses, a few houses, and knew all the balling ass niggas in Charlotte from athletes to ya local trapstar. Meika met Dave at a get together with mutual friends back in 2015. When he saw her phat bubble ass in her two sizes too small Fashion Nova dress, 36D titties with no bra on and only one nipple pierced. Shaped like that Bria Myles chick, real cute, beautiful brown skin & pretty feet (y'all know nasty niggas love pretty feet) he couldn't help but to ask their mutual friend Jamal, "yo who the fuck is that!?". Once Jamal introduced the two, the rest was history. A pure fuck and dinner at some of the finest restaurants type of situationship from that moment forward. But for Meika, this was everything she enjoyed, she wanted no nigga waiting on her to get home and as a Sagittarius woman she wasnt ready to be tied down by no man. Dave fucked Meika in ways her "lil fat pussy" (as Dave would sometimes utter while eating her out) was never fucked before. She tossed salad with Dave for the very first time and the bitch loved it.
Meika could sense her best bitch getting excited, and lowkey jealous too..."I mean I guess Meika. How u gonna wear your hair!?"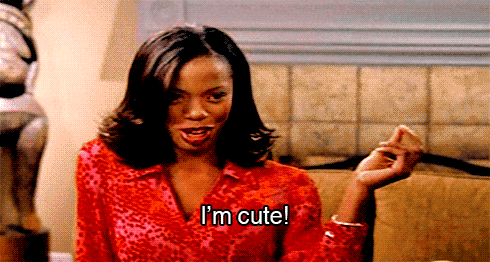 Meika sucked her teeth in disappointment and said "This isnt the time to worry bout this hair, it's about this pussy, ass & mouth getting fucked jusssssssssst right, so are you gonna help a bitch get ready, or nah!?" They both hollered and cracked up on the phone because they know Meika is dead ass!
7:15
"Okay Tae, so u ready to see me?" Meika had her broke ass iPhone 5s propped up on the anal ease on her night stand, at a good enough angle that Tae should see from the knees up. "But how do them shoes look? Did u put the jimmy choo's on like I told u too!?" As Meika walks into the camera frame and begins to laugh as she continues to roll her 4th backwood. "Nah girl I got on these Charlotte Russe lil' bogo heels, they wont know the fucking difference once i bust this pussy open!!!" Per usual, they die laughing because Meika always has a comeback! "Well bitch you look good & I'm sure it'll be fun, what time they coming over!?" Meika hurries up to find her last text from Dave at 4:32 "I'll be there at 9 sexy" as she reads it she rubs her fat clit, and thinks about the last time he shoved his thick 8inch juicy dick in her throat, and cumin all over her face looking like a fresh glazed krispy kreme donut, fresh with the light on.
About a minute and a half rolls by and Meika ignores the fact that Tae is on her fourth "bitch hello I know u hear me! I know u ain't hung up on me!!!" Meika finally snaps out it, tastes her pussy & acts natural "Uh, I'm sorry girl my phone was on mute, but yeah 9 o'clock, so that means I got one more hour to make sure I'm high & drunk enough!". At this point Tae is really getting jealous because her broke back ass baby daddy hasn't fucked her since July, and its 5 days before Christmas and her best friend bout to have two dicks! Not 1, but 2 big schlongggggs by two sexy ass,chocolate ass, 6'2 with the Colgate smile ass niggas. Tae knew she would never get the chance to fuck a man like them, but nonetheless she's happy for Meika. "Well I gotta put ya niece to bed, deep throat some dick for me and tell me bout it later!" Meika laughs "deep throat, that's all you want me to do for you!? Say no more!!" They both laughed said their I love you's and hung up.
9:06pm
Txt message received at 9:06pm:
From: LongDickZaddy
Hey luv, we 15 mins away
Meika quickly forgot that Dave bka longdickzaddy was a 3sum, DP, cuckold, don't wear draws type of nasty ass nigga and brought the idea to Meika a few weeks ago while they were fucking on his balcony overlooking the bank of america stadium, highway 277 and Charlotte's gorgeous skyline...
"Meika baby, can i fuck you with a friend!?" Meika turned around from the vicious back shots to make sure she wasn't just trippin off the dick and hearing shit "huh, fuck me with a friend? Like together, you and him, fuck me!?" Dave laughed but turned so serious that he choked her, shoved his dick back into her already swollen pussy and demanded she give him an answer or he'll choke her harder and fuck her even harder. Meika's a lil nasty bitch so she played along with the shits for a few mins "umm idk Dave", "oh u dont!?" All you can hear is pussy juices sounding like a fresh pot of grandma's Sunday mac and cheese being stirred before going in the oven... after a few strokes and a couple of "ohhh my fucking god" Meika finally yelled out "okay when!!!!?" Dave assured her that he'd talk to his friend, set it up and all she has to do is wear something sexy and they'll do the rest. Meika's eyes got big and pussy got even wetter thinking, Sheeeeeeeeeeet, its that easy!? Okay i'm wit it!
9:32pm
Text message received at 9:32pm
From LongdickZaddy
We here...
Meika quickly grabs the good shit to freshen up the place, Febreeze with the gain knowing damn she well she hasn't done laundry in about 2 weeks, but it smell like she all domesticated and shit.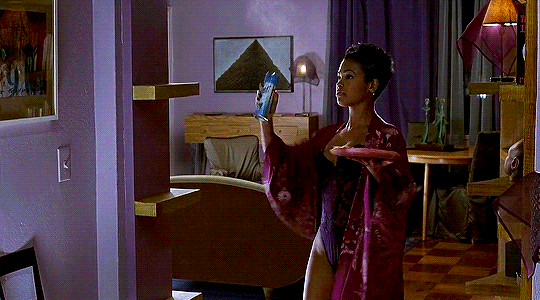 She puts her Bluetooth to Pandora to play some Trey Songz hoping Pandora plays all the good "fucking songs"... Meika greets Dave at the door, red garter belt, tights, ass out, a sexy black lace caged bra that has a little hole big enough for her nipple ring to peep through, and the Charlotte Russe bogo heels on, click clacking all over her fake ass hardwood floors. "Hey Babe, where's ya friend?!?" Looking around the corner out the door of her corner townhouse "oh he's coming he getting the fun shit out the car, go inside." "Tuh, okay" Meika flips her 28inch brazilian bundles and proceeds to sit on her leather sectional that has about 4 more payments left on it from Value City. Dave goes into the hallways linen closet and grabs some towels and puts them on the floor by the couch, in her bedroom and on every seat of the sectional sofa. Meika knows when the towels come out, it's not a quick fuck and this nigga is basically setting up the stage to let her know "oh you getting fucked tonight!" I did my happy dance in my head.
About 10 minutes go by and Meika and Dave are having their 2nd shot of Patron amd rolling a few blunts as Dave's friend comes and knocks on the door. Dave had a surprise for Meika, he wanted to see her get fucked, and to fuck her with people he trust, people who have shit to lose. So being the balling ass nigga he is Dave linked up with a few of his friends, and not just 1 other person as Meika was expecting for it to be, it was 3 of them. Two professional athletes from the city, one from the panthers and the other from the hornets. The last one was one of Dave's business partners who recently built a 20 story apartment building downtown and is making millions in his fucking sleep. When Dave went to answer the door, his business partner Charles was there to greet him. The other two would be making their appearance 1 by 1, but not like a train. Meika stands up to give Charles a hug and asks him to get comfortable. The trio talk,smoke and drink for about another hour, "Come stand up Meika and do a dance for us" Dave grabs her hand and helps her off the couch. Meika being the lil boujee/hood bitch she is turns Pandora to Migos radio and Slippery comes on and she starts dancing as if she's at Onyx FULL time employee of the month.
She's getting even more excited because this night is going in the right direction. As she's bent over in a doggy style position shaking her ass and clapping all over the place, Charles has some fun with it and throws about 50 hundred dollar dills at her. She turns around, and as she's sliding herself closer to her double fuck dates, her size 6 feet slide about 5 bills under the couch, thinking to herself "this nigga will never know". No sooner than she gets closer to the couch, Dave is pulling his dick out and making a come hither motion for her to come put that throat to work. Meika has told Dave before that her biggest fantasy is to be fucked by two niggas, and she knew it would never happen, til today. As she's doing that lil thing Dave likes, licking the head really fast while stroking and twist the top portion of his curved shaft, he's bout ready to cum, but knows this lil bitch will have a big head forreal and she needs to be put in her place tonight! "Cmon baby don't be afraid of that monster now, deep throat that shit" Meika doesn't take more than 2 seconds to follow Dave's demands, and has spit dripping from her mouth, his balls and ass crack. While she's serving up this dick, Charles is next to her tryna finish the blunt that was passed to him before all this started and stroking his dick. Meika pops Dave's dick out and says to Charles "since im not scared of this dick in my throat, dont be scared of this ass baby, come fuck me". Dave's eyes had a lil twinkle to them as if this was music to his ears, hearing his main bitch talk like this made him want her even more. As Charles stuffs his what seems like a whole live 12 inch Mr.Marcus dildo, Meika feels herself cumming on him already, and he laughs and stroked her hair while he whispers "damn i aint even put it all in yet and she cumin already, Dave where u get this bitch from SHIT!". Dave was too busy looking at Meika's almond shaped brown eyes water up while she takes his whole dick in her mouth, to answer Charles so he hit him with the "yeah i know right" and keeps his hand on Mekia's head while she puts on a show. As she sucks harder on Dave, Charles just shoves his whole thick ass dick in her real deep and fucks the shit outta her from the back.
The two stallions switch positions as Meika begged Charles to taste her pussy. As she sucking, Dave's fucking.... about 10 mins go by and Dave gets a message on his phone that his baller friends are pulling up. He Asks Meika, "u ready for some more fun baby?". Meika bites her bottom lip meaning, duh nigga! Dave asks Meika to turn around so Charles can put a blind fold on her and sit her naked ass on the bar stool on the island of her kitchen. As Charles is guiding Meika to the kitchen, Dave is stark ass naked answering the door, covering his dick with one hand and reaches to dap and greet his friends. They all laughed because this nigga is sweating bullets with a big ass grin on his face, naked. The fellas sit their bags down as Dave tells them we just getting her warmed up, now we gotta go eat in the kitchen. The guys were able to see Meika's thick body sitting on the bar stool getting eaten out by Charles, and she hears Dave's voice that he's back, and she hears the extra foot steps, she was mainly focused on Charles because she could feel his beard dripping from her pussy. Charles gets up to grasp for air while Dave goes and has his meal. She wasn't sure how many niggas was in the house, but at this point who cares.
After about 4 minutes, Mr. NFL came to help Dave eat her out, Dave fucked her with his tongue and he was sucking on her clit. At this time Meika is in heaven, squirting all over the place as if she didn't just mop the floor yesterday. She then hears Charles say "put this dick in your mouth". Once again she listens but then realized there is two tongues on her clit, and 1 big ass dick in her mouth.
As shes necking Charles she wonders "Who the fuck is eating my pussy with Dave? And why he doing it so good" but the orgasms just keep coming and at this point she's like fuck it, "yummm eat that pussy" . A few moments go by and Mr. #5picknbadraft 2016 comes next to her and rubs his mushroom head dick on her face. Meika is bugging at this point amd wondering if her weed man Dayday gave her some laced weed because this cant be happening right now. Next, she pops Charles dick out, strokes it and devours the dick waiting on her
After 15 mins, All Ass by Migos comes on, and this is her shit so she goes in and takes turns sucking both dicks in her face while Dave and Mr. NFL still eating her pussy together. After a while Meika gets both dicks in her mouth and everyone is moaning and truly letting her be in control. Meika hears an unfamiliar voice ask Dave, "so when can we make her take this dick in her pussy and ass!?". Dave laughs and asks Meika "are you ready baby!?" At this point Meika has no choice but to be ready. "of course i am, but who js here with u guys, its like two other people or am i trippin?" Dave smiles and says nah you not tripping babe, just relax. Meika asks for him to pass her the blunt so she can press reset on her turnup button.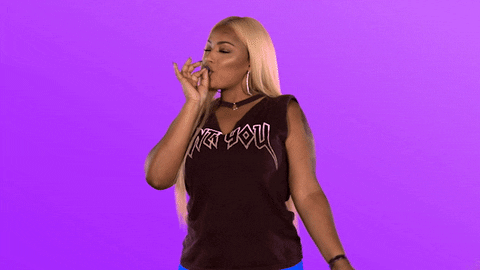 The men help Meika off the bar stool and guide her to the bedroom. Mr NFL lays down while placing Meika on the bed and tells her to come sit on his dick. While she's throwing her ass in all types of circles with pussy juice dripping down his balls and thighs, Dave comes behind and tells her to spread them cheeks while Charles moves her phone off the anal ease and attempts to hand it to Dave for his entry in ass heaven "nah i dont need that" while he's entering Meika's ass he makes an announcement to them, "see Meika likes to fuck, u see how she taking all this dick, and how her ass just let me in so effortlessly? Don't be scared to fuck her, this is my bitch and I'm sharing her for one night only... so fuck her because she loves it, don;t u baby" Meika smiles and moans out a sexy ass yes, that made Charles jump on the bed, hit his watermelon ass head on the ceiling fan and fucks her face. Mr#5picknbadraft asked can that ass open up for one more, Dave tells him sure and makes room on the bed so Meika can be filled up in each hole. The trio fucks Meika unti; her ass is oozing creamy cum out of it and her pussy is squirting all over Mr NFL's hairy chest. Ass slapping, cursing, choking, hair pulling "take this dick" chants filled the room for about 20 mins. Mr#5pickinnbadraft makes it known he's about to cum , but him and Dave keep stroking.
Ass filled with hot cum dripping down her ass crack and gracefully moistening her pussy more for Mr NFL was the best feeling to the trio, at that time cummin quick paid off for the 4 of them. These men aren't gay or bi, they just like to fuck and back in the day, Dave and Mr. NFL used to take bitches down together so they were used to the sightt of their dicks (pause) and occasionally having to touch it when they both tryna get to their ultimate prize, the pussy.
Meika continues to get fucked while the fellas change positions, now Meikas on all fours two dicks in her mouth, one in her ass and the other eating her pussy laying underneath her. Meika been thinking all night "what part of this am i gonna tell chauntae!?" "Do I tell her how much dick I had or do I down play it". Either way Meika knew she was enjoying this and didn't give a fuck who knew or what her bff would have to say, she was feeling good and feeling like the baddest bitch in Charlotte. Multi million dollar ass niggas in here fucking her, with like thousands of dollars on her living room floor, this was her definition of true single bitch happiness. Dave told Meika to sit on her feet and get ready for this messy facial he's bout to paint on her face. Meika is a "oh yesa master" type of bitch, so she assumed the position and got ready to catch the babies. Before she does so, she leans back so they all can first watch her taste the mess they've made.
Dave moaned her name and told her to look at him, no sooner than her big brown eyes gazed up at him, Dave came all over her face, prompting for the other 3 men to follow his lead and give her a good "bukake" as they say on PornHub. One of the nigga was so nasty that he too liked to taste himself the same way meika liked to taste her pussy. He shall not be named, but he came in her mouth, kissed her and helped her shallow his own cum, together. The four laughed at each other helped strip the bed, got Meika in the shower, and even got her dressed....
About 15 minutes later, they congregated in the living room and asked Meika how does she feel "my pussy sore but i feel amazing, Dave what was this about, u didn't want to tell me!?" "Not that I didn't want ask you Meika, I just wanted to see u enjoy yourself. Are you mad at me that i bought the crew over!?" Meika smiled because if she was mad, his next response would be okay you'll be aight so she quickly said "no not at all baby just wasn't expecting it". Dave daps up Mr NFL and says to her "good, because they'll be back next weekend and will being their wives, then we can all really have a good time!" Meika was stunned but just went with the flow, laughed and said ok. As she walks the guys to the door to leave Charles whispers to her "you didn't have to slide that money under the couch baby, I threw it at you because its for you, if you need more ask Dave where to find me and I'll make sure you get what u need as long as I get a taste of u everytime!" Meika smiled and gave Charles that look of "TAKE ME NOW!" She kissed his cheek and waved bye. As Dave is turning to leave he tells her "thank you for being my down ass bitch bae. I know we only been fucking and dating for a few yrs but tonight you made me see a side i didnt think i would see, and uh im ready to make u mine officially, i just need to see how you handle this pussy next week!" ....
THE END!
Don't forget to get your order of SheOrgasms!
www.melaninmilk.com/sheorgasms