Here I am enjoying men week after week, and forgetting that I truly enjoy a woman as well.
The universe decided to drop a friend in my life like a year ago, that just so happens to eat pussy VERY well. Not to mention I enjoy hanging out with her as a friend. She's funny, has great music taste, beautiful, eats pussy VERY well ( had to mention it again), dominates me, and loves to drinks red wine and champagne just like me! We mesh perfectly. Not often do you find a homegirl with so much in common AND she eats your pussy very well!!! I swear that's the last time I'm going to mention that.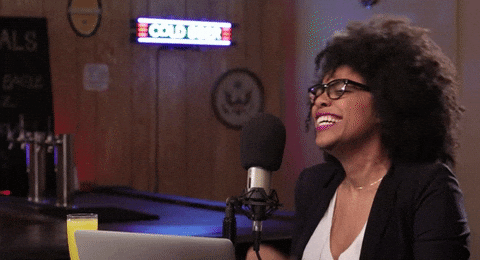 One day she comes over so we can have brunch together. When we're together there is a bunch of laughter and it feels great; a chance to unwind and escape my busy stressful reality. We spent about 2 hours at the restaurant then headed back to my place. 
We're relaxing in the living room vibing to some good music and she hits me with...
"Can I play with your pussy?"
I was a little shook for a second, but my answer obviously was not going to be no.
"Ok..." A slight smile grows upon my face as I slide over to her side of the sectional. She leans in and places her soft lucsious lips on mine. I was a bit nervous I must admit because previous homegirl experiences has not gone the best. I couldn't help but to kiss her back though.
I lift my dress over my head and threw that shit across the room. We continue passionately kissing for a while longer, I couldn't get enough of her lips. She possessed so much sensuality. My pussy was already getting so fucking wet, and if you know me or been in my pussy you know how wet that bitch be getting lol. She places her hand down there and was blown away. 
"Oh my God, why is yo pussy so wet?!" She leaned back in astonishment. She ran her 2 fingers down my labia, spreading my juices all around. She licks it one time, and her eyes roll to the back of her head as if she just drank the most flavorful, sweetest nectar she has ever tasted. She licks my pussy one more time and offers me a taste. She slides her way up to my mouth making a stop at my titty, and lets me taste myself off her lips. 
She makes her way back to my breast, and continues to suck and kiss them, all while still rubbing on my clit. I love having my nipples sucked, so I press her head closer to by titty letting her know I want her to stay here a little while longer. More and more of my fluids are being released down her wrist and I can tell it was making her even more excited. I'm leaning back observing the beautiful view of her enjoying eating my pussy.
"That feels so good." She's not just licking my clit, she's kissing, licking and suckin on everything! My lips, my clit, my inner thigh, my mons pubis, my entire vulva was getting some love.  
"Kay! My goodness, it's so wet." She continues to show her amazement and disbelief. The way I have penis worship when I suck dick, she has pussy worship when she's down there. The sounds of slurps and the moans easily kept me aroused, constantly flowing in her mouth. 
As always my vibrator is laying around my living room and bedroom because I'm always masturbating lol. So she spots my powerful lavender bullet, turned it on and placed it on my clit. Not only there though, she dragged the vibrator around sending pulses all throughout my body. My nipples were getting harder, my eyes were heavy, and vagina began to pulsate and I knew what time it was.
She stepped back to observe the squirt that released my body. This was not the only wave coming. She rushes her face back down there to douse herself in the midst of it. She goes back to making love to my pussy with her mouth.
She grabs the vibrator again and placed it right above my anus while she continued to eat my pussy.  
I literally came so many times just from her giving me head. With this being our first time messing around, I knew this was going to fun! 
The way she ate my pussy I feel like we go together lol.
The next many times we got together after this was just as amazing. She never wanted me to do anything to her, she just wanted to play with my pussy. This night was simple and all about me, so I plan on showing her a VERY good time, VERY soon. 
To be continued...
Please reload