Melanin Milk Submission - Terri
I've been feeling Terri since high school. One night while hanging out at a bar drinking for happy hour I finally admitted that I've fantasized about her. She scooted closer leaning in placing her hand on my thigh she told me, "I've thought about you too." I blushed & we continued describing the fantasies we imagined with each other, the conversation was enticing.
She tells me for her birthday she wants to have a four way & was wondering if I would be down to be apart. My mind goes crazy with images of me fucking her & eating the other girl's pussy while being watched by the 3rd girl. I start thinking about all the pornos I've seen & all the possibilities excite me so much that my dick is starting to swell.
She feels the shift in my pants & repositions her hand right on top of my dick feeling all the potential that sits between my thighs. At this point I want to know how these other girls look so I ask if she has any pictures of them. She said its only 2 girls, me my friend Toya & another guy Troy. I froze for a moment, then figured 'oh well fuck it,' I'm still down with the cause, as long as I can finally experience Terri. She shows me pictures of Toya & to my amazement her body was on point! Smooth chocolate skin, titties nice & big with some sexy large areolas that I cant wait to suck on. Her ass was round & perky sitting up high on her back.
I grab my phone to show her some of my nudes. First one I pull up is a video of myself masturbating. I lower the phone under the table so only she can see. As the video played I'm looking at her & I noticed how hard her nipples where now & began showing through her top. I place my hand on her thigh because I want to feel her pussy. I maneuver my way between the front slits of her skirt & move her thong to the side to find that she is already pretty moist. No one in the dimly lit room bar noticed Terri squirming in her seat as I'm rubbing on her pussy. I can feel her pussy getting wetter because I can feel her juices start to run down my fingers. The waitress comes by to see if we're ordering more drinks, we look at each other & let out a little chuckle because we both know if we drink more we're going to end up fucking right there. We close out the tab; I pay & walk Terri to her car. We embrace & kiss goodbye.
The day of, Terri tells me that Toya lives 2 hours outside the city & can't make the meet up as planned. "I'm sorry babe but do you still want to come fuck me tonight? I still want you & Troy to have ya'll way with me. Do whatever you want to me." I'm disappointed cause I was looking forward to fucking Toya as well. But after how turned on we both were at the bar I am still ready to meet up. "I'm down just let me know time and the place." "Motel 6 on Century by the airport at 9p. I'll tell you the room # when you arrive." I'm excited as fuck, I want to spam her phone with emojis & gifs in excitement but I end up replying: "aiite love, see you then ;) ." I decided to pick up a bottle of Hennessy cause I was going to need all the Henny dick I could muster to ensure this girl will forever remember this night. I pull into the parking lot & take 2 shots of the Henny to ease my nervousness.
Once I get the room number from Terri I hop out the car & make my way through the lobby & to the elevator. I'm smirking the whole ride up thinking about all the ways I want to fuck her. I arrive at the room dick on semi from the anticipation, with palms sweating slightly; I uncork the bottle for another shot before knocking on the door.
*knock, knock, knock*
Terri opens the door with only a black lace bra on that had her titties sitting up so perky & full, my dick instantly stands attention, and I see that she is holding edible panties in her hand, "I was trying to put these on so you eat them off of me but I couldn't figure out how to put them on," she said with a sexy smirk. She took my hand & led me into the room which smelled of incents & weed. Along the right wall there were long sliding mirror doors that led to the closet. I make a mental note that I need to get her in front of these mirrors so I can watch her while I'm fucking her. Along the opposite wall there is a long dresser that I see a bottle of Ciroc, some cranberry juice and a big box of condoms all next to the TV that had a porno playing, ebony porno with Nat Turnher fucking Gogo Fuckme. I'm thinking this is going to be the best night of my life! I scan the room & notice that Troy is on the bed in sweats & a shirt. In all my excitement I totally forgot that I was tag teaming her tonight with him. He gets up & I'm staring at him like I seen him from somewhere; this dude's face mad is familiar but I can't place it at the moment.
She introduces us formally & as I shake his hand & give him the "what's good bro" embrace, it clicks. THIS IS HER BABY DADDY! I'm tag teaming this girl with the nigga she got a baby by. I lose my boner & make an excuse to use the bathroom so I can recollect myself. I'm sitting on the edge of the tub/shower like "fuck this nigga has an unfair advantage & knows what gets her going, I'm coming in this situation blind." But this turns me on at the same time once I think about the other young mothers I've had sex with. The way their pussy gripped my dick was magical. There was something different about the way they had sex. It wasn't about being cute, it was "I'm going to fuck the shit out of you," & I was always hooked going back for more. If this is the only way I get to fuck this girl then that's what it is, I'm up for the challenge. I'm going to make it a game & see if I can fuck her better than he can.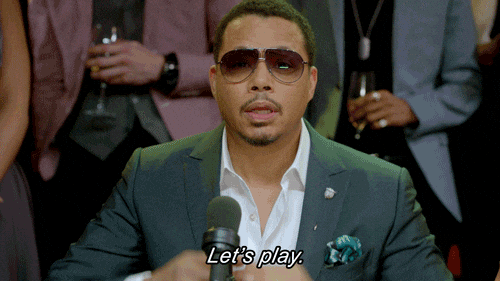 The Henny is kicking in, I stand up & start to stroke my dick to how Terri looked when she opened the door to see if I can still go through with this. I start to get hard & decide that I'm ready to give it all to her. I come out, pour some Hennessy in a cup & sit in one of the room chairs. She walked over & straddled me kissing me while she ran her fingers over me getting my dick hard. After about 5min of the pregame excitement she suggests that we play a game where me & Troy will sit in two chairs facing the bed & watch as she does everything to turn us on. She starts by walking over to the bed & bends over showing us her phat pussy lips. She spreads her cheeks exposing her sweet pink fruit that looks so fucking good. I can see she's already horny because her pussy glistened in the light from her moister. She runs her finger from top to bottom, in & out of her pussy letting out the sexiest little moan.
She stands up & turns around to walk over & involves us in her foreplay. She sits her ass on top of Troy's lap starts giving him a lap dance, grinding all over him while keeping constant eye contact with me. She bites her lip when she feels his dick get hard under her; closes her eyes & tilts her head back as she grinds harder looking as though she is fucking him through his sweats. I'm looking with anticipation for my turn to feel that ass, she notices the hunger in my eyes & she walks over slow, gets on her knees & begins rubbing the inside of my thighs. She starts from my knees & works her way up to until & she finds my dick. She rubs her hand over my sweats reaching in & pulling my dick out to starts sucking on it. She has my whole dick in her mouth and down her throat, slurping & slobbing on it like a pro. In between deep throating my dick she strokes it up & down spreading her spit from the tip of my head to the base of my shaft. Her head is feeling amazing that I lose myself forgetting the no touching rule & go to grab her head to push it deeper on my dick. She grabs my hand, "no no, remember the first to touch me has to watch the other fuck me first." She goes back to Troy & pulls his dick out & begins sucking on it. He's a vet, been there done that, he has his poker face where she knows he's enjoying it but he doesn't let her how much he likes it, keeping his hands behind his hair fingers locked. Her head is bobbing up & down on his dick. Spit is running down his dick & balls. I enjoy the sound of her slurping & sucking that I start jacking off while I watched.
She notices me & comes back over straddling me face to face. She takes my dick in her hands places it against her clitoris rubbing it along her pussy as she gyrates on my lap. Her pussy is so wet that it is getting all over my dick. I'm lost in the whole situation again & grab two handfuls of her ass & squeeze it as I kiss her. She entertains the move for a little then slides off playfully wagging her finger. "You lose baby, now you have to watch Troy fuck me." She walks over to take his hand & lead him to the bed but he nods over my way, "go ahead bro, you're new, this your first time. You can go first," she walks back over, drops back on her knees & begins to suck my dick again.
This time I grab the back of her head & I'm fucking her face. Its feeling so good, shit got so good that she grabbed the chair seat & relaxed her throat so I can slide in deeper. I'm thrusting my hips in rhythm with her head so my dick slides deeper & farther down her throat. My dick is dripping wet from her spit & I want to fuck her so bad. She gets up & grabs my dick leading me to the bed. She crawls on top arching her back showing me her pretty pussy again. I reach on the side table to where we moved the condoms & rip open the box to put one on. I take it & begin eating her pussy from the back while I put on the condom. She was so wet and sweet I forgot about fucking her & just ate her pussy until I felt her cum. I come up licking my lips reaching for my dick so I can slide into her pussy. I want her to feel each inch as I travel deeper inside her. Her ass looks & feels so good slapping me on the stomach as I'm fucking from the back.
Troy is in the chair watching & it being my first time in a situation like this I'm trying not to let his presence throw me off. After some time she calls him over so that she can suck his dick while I'm fucking her. She takes his dick into her mouth & sucks on it in the sexiest way. After some time she pulls his dick out her mouth & tells me to fuck her harder. I start pounding her pussy harder that her titties starting swinging & her moans are getting louder & louder. She can't manage to suck his dick anymore so she starts jacking him off because I'm going so fucking so hard. She motions for us to switch so I slide out & pull the condom off, he puts on his condom & as he fucking her she starts to go to town on my dick. I grab her ponytail & take control by fucking her mouth again. I'm starting to sweat & looking down at her suck my dick as she is getting fuck was turning me on! Troy & I are rotating between fucking & sucking giving her all the dick we got. Making sure Terri cums all over our dicks.
We decide that we want to really make her scream & moan so we tell her she's about to get fucked in her ass too, double penetration. So I lay down on the bed & she positions herself on top of me & she takes my dick & guides it into her pussy. During the transition Troy refills his drink & I take this time to let Terri ride the fuck out of me. The way her ass slapped my thighs felt so fucking good. I'm grabbing her ass squeezing it while she bounced on my dick. I'm staring at the sweat building in between her breast as they bounce making my dick throb inside her pussy walls. Troy comes back & she adjusts herself so that she can take us both at the same time, leaning closer to me & arching her ass showing him her asshole that's ready to be filled with dick. She's moaning & kissing on me while gripping the sheets so tight that her knuckles turning white. Troy was fucking & grunting her so hard that it threw off rhythm of me trying to fuck her so I decided to lie there & suck on her titties while she enjoyed her ass getting pounded. The way she was moaning & throwing her ass on his dick I knew he was about to cum soon. The intensity started to pick up & their rhythm quickened and his strokes got harder & faster until he let out a loud grunt & came all in her ass; got his last final stokes in then pulled out & went to the bathroom to collected himself.
I took this time to try & get my nut, I grabbed her ass & begin fucking her hard. At this point I got Henny dick & I'm on autopilot, titties bouncing as I'm stroking her pussy in & out, she's yelling for me to fuck her harder, faster, harder, faster.
This shit is starting to feel like a workout & I can feel a cramp starting to come. We're sweating & panting vigorously, I loved the way our sweaty bodies felt rubbing against each other. Before that cramp came I pulled out, jump behind her to fuck her doggy style. Her pussy was dripping with sweat & cum that I slip in so effortlessly. She's moaning & groaning, I can feel our fluids splashing all over me as our bodies meet with each stroke. I'm trying my hardest to get this nut out of my dick. Sweat beading & running down from everywhere, head, neck, chest, back…etc; we're DRENCHED. I was fucking her so hard that she collapsed on the bed & I fall with her slipping from the sweat on her ass stroking deeper & deeper. I reach around & place my hand on her pussy so I can rub her clit while I'm fucking her. She's moaning & biting the pillow, I can feel her body start to shake. She reaches one arm back behind her to grab my head & pulls me closer as she cums hard. Her pussy clenches my dick so tight that it pulls the condom off. I know I'm not going to nut so I fish the condom out of her & toss it on the floor. I want to taste her again before the night was over that I begin to eat her pussy again as she lay on her stomach. I'm so turned on & feeling adventurous that I go to eat her ass. I've never eaten ass before so I just go in like I'm eating pussy. It must have been good to her because she arches her back to give me more ass to eat. I'm starting to enjoy it & while I'm eating her ass I'm playing with her ass cheeks.
I want to see if I can get her to cum one more time before we end it. Troy comes out the bathroom & positions himself in front of her so she can suck his dick. I slip a finger inside her pussy to speed up the process & as she cums for the final time tonight she clenches once more & I lick up all the cum from her pussy & ass savoring all of it.
We lay down with Terri in the middle of me & Troy. She cuddles up close up under me. She falls asleep on my chest in my arms, they're both snoring loud as fuck now from the exhausting night. I slip out from her arms & collect my things, walking out the lobby I replayed what a night we had & vowed to fuck her again cause she owed me a nut.
The End!