The only way I can see myself in a lifelong partnership/relationship is if things go exactly like this...
I realized that I have a tendency to be dominant and subservient interchangeably. It just depends on my mood during the current sex session, or if I drank tequila. I need a man that can not only allow me to be both, but be able to interact with each trait fluidly. 
Let me just share the type of woman I am exactly. 
I'm childish, yet very professional, and mature when I need to be.
I love to laugh, and be goofy, but I also love to have deep serious, intellectual conversations that can turn into debates (not arguments).
I can hangout with pretty much anyone, anywhere, and everyone would love me. However, I need my time in my own space, away from everyone. Where I don't even need to move my face for expressions. Just left alone in a tranquil state.
I love to meditate, but also love to clean the house listening to 21 Savage.
I'm definitely a square when I do try to dance and rap. But I embrace my quirkiness.
I'm super proper, prissy, and some may even say uppity but definitely a ratchet hood-rat at times; as well. I'm well rounded if I must say.
I love to touch, hug, caress, massage, lick, suck, and nibble. I'm super affectionate. 
I need penetration, clitoral stimulation, and/or vibrator sensations almost on a daily basis.
I love to cook, clean, and cater to my man. it brings me joy to satisfy my man in all ways possible.
I don't really like to plan shit. I'd rather go with the flow, and be spontaneous. Let the wind lead me.
So these are my terms:
I want my man to be MY MAN, and I want to be HIS WOMAN. No need for boring titles that complicate things. I don't want him to be my property nor do I want to be owned by him. But I do want us to have a level of love and respect for one another that makes me feel as though he is mine. And by mine, I mean that he comes to me first. He lies his head down next to mine. He wakes up with me. We travel together. We grow, build, and excel together. We share thoughts, ideas, and concerns. We fight then make things right. Disagree but understand. I pop up in his head when he's about to make a decision. He checks on me. He handles my body with passion, love and force. 
It's natural for women and men to have desires, and desires can be very strong to overcome. When you try to fight these desires hoping they'll subside, you only end up stuffing your whole face in the cake instead of just taking a small little piece to satisfy your craving. With that being said, if my man has a desire to have sexual relations with another woman, I want him to. If his yearning for her is so strong, he should indulge. However, I would want him to tell me about it prior to it happening and afterwards I want details of what happened or invite me to watch/join.
I oddly get turned on hearing stories of my man fucking another woman. I've already envisioned them in the act the moment he shows me her or tells me about who she is. I feel like I have some sense of power when he comes to me first for "permission" or approval. If I don't approve of someone he wants to experience, I can kindly deny his request, and he has to drop it. I want to walk around like the Queen with control over my mans dick because I plan to be the one worshipping it. I determine what I, I mean what WE do with it. 
I personally don't NEED to have sex with another man if my man satisfies me the way I need to be satisfied. But I definitely will have my desires as well and might want to, and hopefully My Man understands this. He may not want to hear details or he doesn't want to know in advance (we'll work out the details lol). It is also important that he accepts that I do have desires to be with a soft delicate woman from time to time, cuddle up against her warm soft body, suck on her hard nipples, rub her wet, silky pussy, and... you get the picture. But imma need that AT LEAST 3 times a year.
Let me elaborate on the word DESIRE and what i mean by it. I don't want my man to be out smashing any and everything that looks his way. However there will be times in his life where a specific woman enters and he can't resist her. That one lady at his gym that he's been seeing there every Monday, Wednesday, Friday, the cute barista at Starbucks that know his order and his name, his homie's homegirl that always swings through to play spades. Someone that has been peaking his interest for some time. Not a random fuck. I approve a desire that is truly a yearning. Maybe it'll only happen twice a year, not a all, or maybe even 5 times a year. But my man will know who is worth his time and who is not. And that goes for me as well. I don't like that many niggas so I don't see myself in this position too often lol
I'm not sure if I see myself getting insecure or upset about anything because honesty and communication is so much of a turn on, he's going to get fucked just by telling me he wants to fuck another woman. it'll always keep me fresh and new, because i wont ever get comfortable in my "position". each year with my man i want to be greater than the woman i was the year before. 
Yes, I may get jealous from time to time, but not the type of jealously that is internalized, it would only be momentarily or to remind him that i care lol. Because my man will continuously be doing things that makes me feel confident. important, loved and beautiful, and those things outweigh jealousy.
The type of man he needs to be:
He needs to be goofy, and can crack a few jokes here and there. Can also take my sarcasm, and laugh at embarrassing moments.
He needs to be smart and not ashamed to be a geek about topics he's passionate about. School me on things! I need to learn from you everyday.
He needs to be that perfect combination of sweet and sour; and asshole and gentleman. I want him to man handle me to the floor and rip my panties off to eat my pussy, but also pick me up at 8 for dinner, and open the car door for me. Grab all the bags from the car, so that I don't have to carry anything. Pick on me from time to time. Fuck my face like a porn star even when I'm "begging" you to stop by shoving my nails in your back. Text me I look beautiful today, even though you haven't seen me yet. Pin me to ground so you can get the remote. Kiss me from the top of my head to the bottom of my feet. Shove me in your trunk and kidnap me! (I'm just kidding, but you get my point)
Be financially stable. (Not necessarily rich)
Preferably No kids (Mainly, because I'm selfish and I want you all to myself) But if you happen to have kids and you fit all the other requirements, you better be a everyday version of DJ Khaled to your kid. Father of the YEAR! Something about a black man being a good dad is super fucking sexy!
Be manly and assertive. Yet passionate and in tune with his emotions. 
Be able to caress my body softly with smooth yet strong hands.
Must have juicy lips to handle my juicy lips ( Not the ones on my face)
Dick size must be between 6.0"-9", thick, mushroom top (circumcised), curved, and a few thick veins popping out of it.
A good communicator! I love a man that voices his opinions, and can tell a good story. Shares his thoughts, and understand what he wants and needs.
Has to be diverse and able to mingle with an eclectic group of people.
Enjoys red wine, and a variety of different foods. Can't be closed minded and unwilling to try new things.
Taller than me, but if not no less than 5'9"
Most importantly!
He has to make me feel loved, beautiful, wanted, and appreciated.
That my friend is my perfect guy.
Oh and the darker the better! I love me a brown man!!!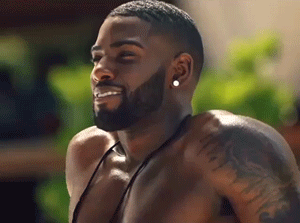 I know some of you might think I'm a bit obnoxious with my wants, but what I'm asking for really isn't that dramatic. I deserve the best, and I will receive the best. I have already manifested it during my orgasms so it should be happening pretty soon! I'll keep you all updated for when he comes into my life!
Until next time!
Please reload