How to get the most out of Tinder!?

Find out now.
1. Make sure you are fed! 
Rather it's breakfast, lunch, dinner, coffee, or a snack. Take it. Don't be all modest, independent, or shy. If he offers to take you out, say 'Yes'! Men for the most part, will pick up the check (Especially if you are in the south, Northern men are a different breed). So, when you finally match with someone, show your interest in him. Don't be afraid to make the first move. If a man feels you are really interested in them they'll be more than willing to feed you. And that's what it's all about! You can say something along the lines of:
You intrigue me.

Handsome and smart, I like you already.

Wow, how can I get to know such a handsome man like yourself?

I read you enjoy gin, so do I! You can be my drinking buddy.

You're lips are so enticing.

You look like you give great hugs.
But don't say things like:
Come fuck me!

You trying to spend that bread on me daddy?

What that mouth do?

I love me a hood nigga, what's up?

Hi

How are you?
I don't respond to a guy sending a simple 'Hi'. So I never send them either. Once you catch his attention have some places in mind of where you want to go. If he ask, and you're all like "Umm.. I don't know, wherever you wanna go." Your ass will end up at Applebee's or Cici's Pizza (I've learned from my mistakes). Plus, I'm sure men get tired of coming up with all the ideas and shit. You don't even have to exchange numbers right away. Figure out where you are going to meet for food and say "I'll be there! We can message on here until we meet up and decide to exchange numbers then" if he hit you with "Well I ain't on here much." unmatch his ass, because he's playing games, and you just dodged a bullet. He was either going to end up being obsessive, annoying, or a straight fuck boy. If a man offers to cook for you; DO NOT, I repeat DO NOT go to his house. Especially on the first date. I mean, I would go; but you shouldn't. He could be a murderer, rapist, psycho, or he could be dope as shit. I take risk though.
Story Time

 - Terry Tinder Messages
You're beautiful (he hit me up first)
Thank you, you're rather handsome yourself.
How are you this morning?
At work starving, trying to figure out how I'm gonna eat lunch * inserts sad face emoji*
Why what's going on?
I had a few unfortunate events happen and I'm completely broke until tomorrow.
Damn baby, you too fine to be broke.
Well, are you gonna come take me to lunch? lol  (Mind you this man is not that handsome, but I noticed his crisp ass Movado Bold in one of his photos, so I swiped right)
What side of town do you live on?
I'm on the south.
I'm on the north. Damn, I won't be able to make it to you on time to have lunch.
(I reply with this 'sad, I understand' GIF)
It's OK, I'll figure it out. But thank you for being so concerned with a strangers hunger. I appreciate it.
No problem, I always look out for my beautiful sistas.
You're such a wise man, I love the way you think.
(Then he sends me this)
Just as easy as doing absolutely nothing, this man orders me Jimmy John's straight to my job. I never even had to meet him, or give him my number. Play that pity card, whimper a little bit. Men love feeling like they're needed. Even if you got bread in your account, why spend yours when someone else is offering.  This was only the simplest of the 800 free meals I've gotten off Tinder.
2. Get Your Whiskers Wet!
People go on Tinder looking for love, in hopes of finding that special someone. Sorry to break it to you, but this is NOT the place for that. Maybe you should try eHarmony, or Christian Mingle. Casual sex is like asking for a piece of gum these days, everyone feels like they can ask anyone for it! It's so common, fuck boys don't even know what loyalty or commitment is anymore (don't get me wrong, there are a few that do). The ones on Tinder are not them! Trust me, they wanna get in and get out, and I do mean that literally.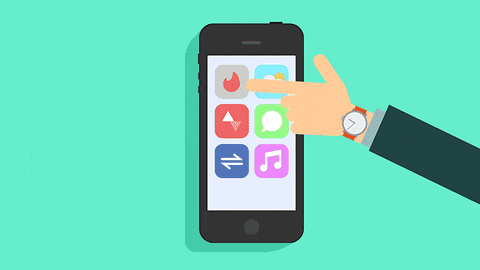 Somehow, I can spot a big dick. I can't really share that secret yet with you all. That's a whole new blog for a different day. However, I can say trust your pussy instinct. If he look like his stroke game is wack (swipe left on that ass). If you can see his dick print through his pants, and it looks promising (swipe right on that ass) If he says something along the lines of "Only looking to have a good time" "Freaks only" "I'm a pleaser" "Can you handle me?" (swipe right on that ass). Those are guaranteed good times. You may hit a few whammy's but at least you got a free meal or some drinks out it. If you begin messaging with someone and they become super annoying, disrespectful, or just entirely too much. Quickly UNMATCH THEY ASS, you'll never have to deal with them again. Now just a quick test. Can you tell who has a big dick? I will provide you with examples. (You're welcome)
In the popular show Atlanta - These 2 character dick analysis:
Character Earn Marks (on the left) - He has a nice 5 1/2 inch penis. He can satisfy a woman, because he has a fat tip (mushroom top). He awkwardly has good rhythmic strokes. And can get the job done. You may not cum, but if you're emotionally connected with him. It will feel good. You can tell by the dumbfounded look on his face that his dick game isn't up to par. But he has that one woman in his life that loves his average penis.
Character Darius (on the right) - This nigga is packin'! He is going to whip his dick out and bitches are in shock at how big and long his dick is. He does not have a penis this man has a DICK! It is anywhere between 8 and 9 inches, thick and beautiful. The way he walks has so much confidence, and comfort. He knows his dick is big he doesn't need to boast and brag because he already has a huge line up of bitches that he fucks regularly.
Now to test your dick sensies. Who has a pleasurable DICK and who had a heart warming penis?
A. DICK (He Knows what to do with it too)
B. Dick (Stroke Game is AWFUL though)
C. DICK (It's beautiful)
D. Penis (But will make you fall in love with is tongue)
E. Penis (Pretty Boy syndrome)
 F. Penis/Dick (He's almost there)
G. Penis (smaller than average)
H. Thick, but Penis
Now that you have some examples of how to pick out a DICK from a penis. Swipe with this thought in your mind when looking to get your whiskers wet! Let loose, have fun, get fucked, and use protection!!! (Advice from my mom)
3. Get a Bill Paid
If you're cute, this should be really easy. If you have really good pussy this will be really easy. If you suck dick like a champ this will be REALLY easy. If you're a sweet, nice girl you can pay your own bills honey. 
It's time we take full advantage of Tinder. Save a little money, have some fun, eat places you've never eaten, network with people you would have never met, go places you've never been. Don't swipe right only because you're attracted to them. Swipe right when you see he works at the headquarters of some fortune 500 company, a fancy law firm, or he owns his own company (and it's legit). Swipe right if he showcasing his money talking about "Let me spoil you." Maybe he will, maybe he wont; but I'm going to find out. You'll either be getting your nails done, or getting your rent paid. I'll take either with those odds
If he says he want's to see you. Use that time to say something like "I don't have any gas, I can't make it to you." He will fill that bitch up with no problem. If he comes over and he comments on you not having food and he's hungry. Take that time to suggest you both go to the grocery store to grab something to cook. Don't just get the things you need to make food that night, get extra shit. 
Learn to be a story teller. Create a scenario without being too forward about asking for money.
 In your sad voice say something along the lines of "I would love to hangout, but I'm just really stressed out right now. Not really in the mood to kick it." He's going to inquire more... "I'm freaking out, because my rent is past due, and I don't have enough. But my mom is suppose to be calling me back to let me know if she can help." He, as a man is going to ask how much more you need. Now if you want 200, don't fucking say 200 dummy! double whatever you really want. If you say "I only need 400 more dollars" he's gonna say "Well let me know what your mom helps out with, I got you on the remainder." At this point you need to show dramatic gratitude.
 "Thank you so much, you're so amazing. I appreciate you so much, what would I do without you." Blah Blah Blah.
4. Get In A Relationship
So there are 4 thing you will gain from downloading Tinder. 
1. Food!
2. Sex
3. A Bill Paid
4. A Relationship! Now, it most certainly will be a "relationship", but he's definitely going to be cheating on you. And I'm sure he still swipes on Tinder while laying next to you at night. But you can tell all your friends you have a boyfriend, and you're so happy, and your Facebook status says 'In a Relationship." How cool are you! 
Please reload