1st Girl on Girl Experience
*This post contains graphic language and images*
Before I had ever been sexually involved with a woman I always had fantasies about eating pussy or fingering a girl or letting a woman do it to me. The thought alone turned me on so much. I just never knew how to go about making it happen lol I didn't wanna seem like a creep. But oh how the universe listens to the things you really want in life!
So one night one of my dope dealing home boys asked me if I wanted to go with him to Magic City Monday. I of course said yea! If you have never been to Magic City Monday it is absolutely incredible and ratchet but so much fun! strippers just bussin' it wide open, money on the ground and in the air. Its like a music video at least it was that night.
I'm sitting there drinking a henny and ginger on the rocks just minding my own business, observing the show. Even though I love that type of environment I was super laid back that night. One of the main attraction strippers came over to me and just starts dancing on me. I let her but in the back of my mind I was hoping she wasn't expecting any money from me lol after she finished dancing she started kissing me. I was so confused and everybody was looking at us. Now that I think about it i made her so much money that night! She dancing on me, and everybody else was throwing money.
Fast forward to the next day I'm at home she calls me. Mind you I never gave her my number. She ended up asking my homeboy for it because I was so drunk by the end of the night. So she invites me to her place and tells me since we will probably be drinking she'll send her driver to pick me up ( this was well before uber). I felt so important, like damn you sending your driver!
The driver comes to pick me up and I was nervous as shit, but I hopped out the car like...
I had never been with a woman before let alone a stripper. I get to her place and we barely spoke. She just tells me she made me a warm bath and to go get in and wait for her to join me. I did. When she joined she had 2 glasses of wine for us and we sat in the bath tub got to know each other a little bit. It was so relaxing, and helped get me even more comfortable.
She stood up and bent over in front me showing off her pretty ass pussy as a quick sneak peek.
When we got out she had a robe for me and stuff for me to re-do my hair lol ( I'm natural so it's a process.)
We head to the kitchen so that she can fix me a plate of her delicious home cooked meal (jerk chicken). She stood naked moving her body to the music playing in the background.
I'm a vegetarian now but if she came to me today with that chicken I think I might eat it again.. and her .
So speaking of eating lol after we ate dinner we finally went to her bedroom. She danced for me like she was with a VIP client in the Champagne Room. Then she came over to me and started to squeeze and lick on my nipples very sensually.
She ordered me to spread my legs. I did. She ate my pussy like no man ever has. She paid so much attention to my body, licked my clit, sucked my lips, tonged me in and out. It was so magical.
Once I nearly came in her mouth she stepped back and told me she wanted to watch me finger myself. I place my fingers inside me and rubbed on my clit. She came hovered over me and spit on my pussy making it even more wet and juicy.
She then helped while we both fingered and rubbed on my clit. It was my turn to eat her out and I was so nervous because I had never done it before but I did it and to my surprise she thought I was a full blown lesbian by my performance lol
When I tell you this girl wined and dined me and then ate my pussy like a porn star. I was literally sprung for a whole entire year!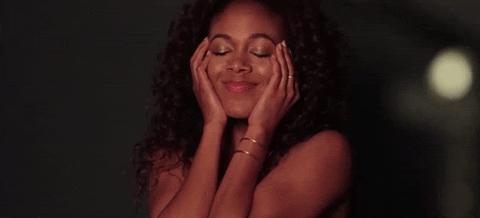 And that's the end of my story of my first girl on girl experience. It was perfect and her and I are still friends to this day.